The Theraplate helps to support humans, horses, dogs and other animals all over the globe with recovery from injury, sports conditioning and rehabilitation. The unique technology provides a world class advantage. 
The Theraplate has been a 'game-changer' in many rehabilitation programs, helping to heal and support the body from the inside out. 
Take a look at a few of our client's amazing testimonials and how the Theraplate helped to support their recovery from injury. 
TheraPlate - Our Story
A friend of mine recently had a hip replacement and it went wrong. She came out of hospital with terrible back pain and could hardly walk. We're both horsey people (in our 70s) and I, too, have had both hips replaced (successfully). However, I also had terrible back pain which even spinal fusion, almost two years ago, had not helped. I didn't see her for a few weeks earlier this year but heard that she was much improved – due to some sessions on a TheraPlate which a friend of hers had hired. I went to see her and could not believe my eyes; she was back working with several horses, mucking out, carrying buckets of water and bales of straw! It was almost like a miracle; she said she hadn't felt that good for a long time.
So, I decided to try it for myself and hired a K4.
My problems were: back pain, leg pain following knee surgery and a burst blood clot, neck pain and loss of balance, most of these due to osteoarthritis. I needed a Rollator to walk round the shops and had been looking at purchasing a Mobility Scooter. My husband had been having severe problems with both knees, unable to get up from sitting in a chair or from bending down (mostly to pick up a golf balll).
We have both been using the TheraPlate for a few weeks now and the difference is astounding. Hubby has no problem at all with his knees and I am much improved in all respects. I find that I am also sleeping much better than I used to as I am actually comfortable in bed and my balance is quite remarkable. We were so impressed after the first week that we ordered one!
Thank you TheraPlate, our quality of life has improved no end.
Pat & Terry Leversedge
Living With Chronic Arthritis – How I Got My Life Back
Before I discovered the TheraPlate I was housebound and seriously ill with chronic Arthritis, which was a result of undiagnosed Pneumonia from previous years.
I discovered the TheraPlate K6, which I used every day. Within 3-5 weeks, despite the chronic Arthritis, I was mobile again. Four months on, I was going out shopping, having coffee with friends, smiling and enjoying my life again. I continue to do all these things and more. I have my life back!!
Without the TheraPlate, I believe this simply wouldn't have been possible.
I want to share my hospital letter because it is a delight that the clinical update written by the consultant at the Diabetes & Endocrine Clinic highlights just how remarkable my progress has been, stating "I am pleased to know her arthritis has improved dramatically since she used TheraPlate"
Michelle Graham
~
Clinical Update
It was a pleasure to review your patient in the endocrine clinic today. She is progressing well in herself. I am pleased to know that her arthritis has improved dramatically since she used Theraplate.
She is a symptomatic currently a part from mild epigastric fullness every now and then and chronic acldlty.
No excessive sweating, no shortness of breath or palpitations. She still finds it very difficult to shift wt. She was seen in EIU today by our endocrine specialist nurse.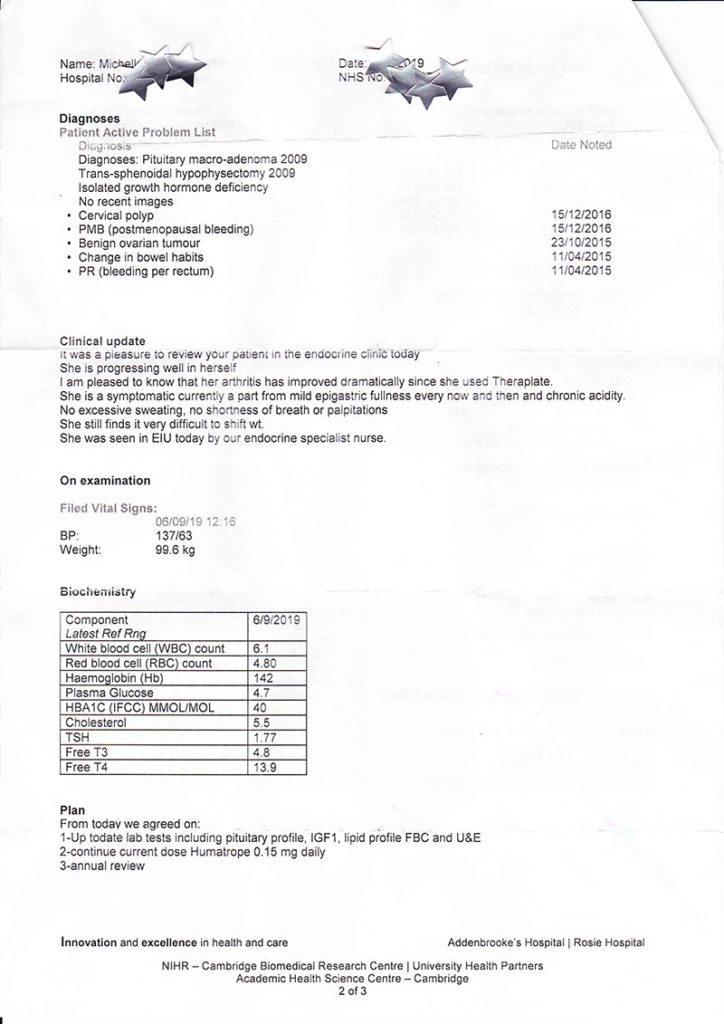 No More Medication - Instead TheraPlate Therapy
In May 2013 MRI scans on my lower back and pelvis revealed disc protrusion problems in my lower back and significant Dermoid Cysts within the pelvis.  Following Laparoscopic removal of the bilateral large Dermoid Cysts the pain reduced dramatically in the pelvis, however I was left with some intermittent pain due to a small area of residual Dermoid Cyst but of no significance and unfortunately I continued to suffer with the back pain in the lumbar.  This was managed with numerous prescribed medications.
Fast forward to August 2017, end of my maternity leave and searching for a new job close to home. No longer could I continue being away with work in the week as a Hospital Directors PA and just be at home at the weekends. This is when I found myself being interviewed by Dominic Fox, Director of TheraPlate UK Ltd and in September starting my new PA role.  Within weeks it was a no brainer, I had to buy a TheraPlate. I didn't need convincing. I spoke daily to customers, read their testimonials, saw before and after photos – this all spoke for itself. 
My TheraPlate K4 is set up in my living. Being only 2ft by 2ft it doesn't take a great deal of room. Its wrapped in a fleece grey blanket so is in keeping with the room decor and is used daily. It has eradicated both my back and pelvic pain and surprisingly I also have less migraine episodes. I spent all those years suffering with the pain. Now I can honestly say "No more medication, instead TheraPlate Therapy".
Rachel Smith
Arthritis in Horses and Humans
Arthritis in the Knee
I have been suffering with pain in my knee and have been diagnosed with arthritis. I was struggling to ride for more than 20 minutes as the pain was excruciating. The Theraplate has made an amazing difference to the arthritis in my knee and now I can ride for over an hour again, in lessons and go out on lengthy hacks and out hunting. I try and get on the Theraplate as often as I can, even if jump on at the same time as the horses.
My horse and pony also love going on the theraplate.  My 16 yr old ex racehorse refused to go on the Theraplate at first, but after a little coaxing and taking this slowly he now loves going on it. Since going on the Theraplate he feels a lot stronger but more supple when I ride him, now he's a real pleasure to ride.  
My daughter's 17 yr old pony also loves going on. She's a very forward going, fizzy pony but since using the Theraplate she seems a lot more settled.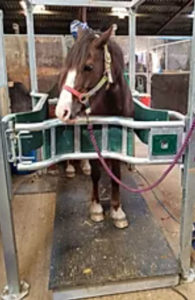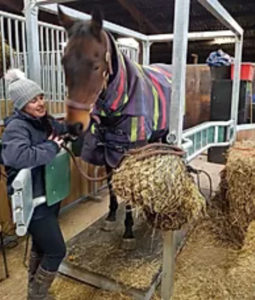 Arthritis
My 17 year old Irish Sports Horse has had arthritis in his near side front knee since we purchased him back in April 2010. It never affected and we enjoyed competing in unaffiliated jumping up to a metre. In late 2017, he went lame from the arthritis. We took him to the vets in March 2018 and were advised to retire him to happy hacking. Throughout summer 2018 we took him out hacking and noticed that he seemed depressed and was missing being out at shows and competing. 
We gave him a session on the Theraplate with the Cumbria team at a local livery yard.  He seemed to thoroughly enjoy his 30 minute session as did I (when he let me on it, he enjoyed it far too much to share). 
The following morning his knee, which usually looks swollen due to his arthritis and him growing extra bone down his leg, looked visibly less swollen. His gait in walk looked bigger and when we turned him out he was galloping around and very lively.
Two days after the Theraplate treatment we took him back out competing to Arena Eventing. I could feel he was more lively than usual in the warm up, he actually felt great. We went on to win our class against 24 other competitors, which also put us into the lead on the individual points table too. Overall we came 2nd on the individual leader board after the remaining two events, which I thought was fantastic for just going out and having some fun.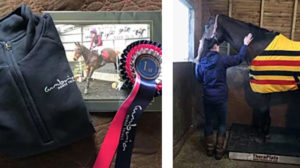 Suspensory Ligament Injury Testimonials
Suspensory Ligament Injury & Sesamoid Fracture
Our 9 year old Fell pony is my daughters pride and joy. We have had him since he was 18 months old, and were just really starting to get good results in the show ring, having been the highest placed fell pony in his classes at Royal international last year and aiming to contest Horse of the Year Show this year. 
He pulled his branch suspensory ligament and fractured his sesamoid bone not long ago, after treatment the vets have now cleared him to start walking out in hand. He has been having sessions on the Theraplate on a weekly basis to speed up his recovery.
The Theraplate is helping his body to recover quickly from his injuries so we can get him back in the show ring. 

Foreleg Suspensory Ligament Injury
We used the Theraplate for my Son's polo pony who had sustained a foreleg suspensory injury at the end of August 2018. 
We contacted Floss Smith from Yorkshire Equine Rehab in early September 2018 and she brought the Theraplate over to us at White Rose Polo Club in East Yorkshire. Paloma, the polo pony, had daily sessions, 5 in total, and trotted up perfectly sound on the last day and has stayed sound since.
Due to the polo season already being at an end by the time she came sound, Paloma continued to just have daily turnout and was brought back into ridden work at Christmas. She is doing great and is ready for this years polo season to start.  
While Paloma was having Theraplate treatments I wondered if it would help with the neuropathic pain I have in my right leg due to an old back injury. My right knee constantly feels like it will snap on bending, it won't, but it does feel like that 24/7. Floss suggested to hop on the Theraplate with Paloma while she was being treated to see if it will help. At first I was unsure whether it would help as I've suffered from this for so long, but it did help.
I still have the neuropathic pain, but the tight feeling under my knee cap did subside for about 4 months and has only just returned, so I would think that with more regular sessions with the Theraplate it could possibly get rid of whatever is causing it as MRI's haven't shown anything.  
We highly recommend the Theraplate to everyone and I would never hesitate in using it again for me or our horses.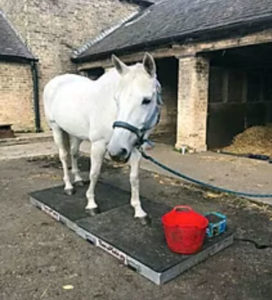 Suspensory Ligament Injury - Sound in 4 weeks
Paddy is my 8 year old Novice event horse, who I bought as a 5yr old and produced myself. On 3rd October, he was diagnosed with an injury to the top of his suspensory ligament in his offside foreleg, which I was gutted about to say the least.
He had Platelet-Rich Plasma (PRP) injections into the hole in his suspensory ligament where the injury was and his box rest commenced. Five days later his bandage came off and I found Sophie, a mobile Theraplate therapist, who came to our yard once a day, 6 days a week and Paddy loved it!
For 2 weeks he was on strict box rest, after 2 weeks he was allowed to be hand walked for 5mins, twice a day. At week 3 I noticed that his walk started to change, it was more powerful with his head down and out and he appeared to be sound.
The real test was when the vets came to re-scan the injury on 30th October, and then trotted him up and in less than 4 weeks he was confirmed sound. Plus I am also a qualified Equine Massage Therapist so by combining the use of regular massage treatments and Theraplate sessions within his 4 weeks of box rest Paddy had lost no condition and still looked amazing!
We will be definitely be continuing to use massage, combined with TheraPlate treatments as his work load now starts to increase!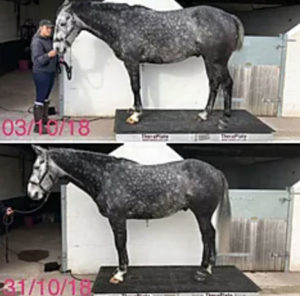 Tendon Injury Testimonials
Miracle Recovery from Tendon Injury
I would like to share just how much Theraplate has helped my horse come back from a catastrophic injury! In August last year my 2yr old horse was found in the field unable to weight bear on his left foreleg. After emergency treatment and travelling over 2 hours in the middle of the night, he arrived at Rainbow Equine Veterinary Hospital.
On scanning the leg and taking samples from his tendon sheath, it became apparent the tendon sheath was septic and surgery was needed! Later that morning he was took to surgery whereby the vets discovered the extent of his injuries. After a CT scan it was clear that he had torn the deep digital flexor tendon, he had a hole in the superficial flexor tendon and a tear in the annular ligament, alongside the tendon sheath. Due to the poor prognosis at this stage the only option was surgery. ​We decided to give him a chance and surgery took place.
A week after the surgery his recovery looked hopeful, then he took a turn for the worst. This time we were faced with putting him to sleep or sending him for surgery for a second time. We discussed with the vets and opted for surgery one more time!
After spending over 6 weeks in hospital, he finally came home, but 2 weeks later he began to deteriorate again and was rushed back to the vets. On examination an abscess was discovered under the stitches on the surgical site meaning he was then hospitalised for a further two weeks.  
Eventually over 2 months from injury the horse came home for the final time. After researching the best route for rehab, we then sent him for Theraplate treatment with Dianne Richie at Equilution. He spent another 8 weeks here going on the Theraplate 3 times a day. The difference in him was second to none!
He visited Rainbow Equine Veterinary Hospital for the last time 2 weeks ago whereby the veterinary surgeon said his recovery had been not short of a miracle! He had exceeded everyone's expectations and has now been given the all clear for turnout after a very long 7 months!
The theraplate treatment has been absolutely remarkable and I would recommend to anyone.

Foot Sore and Cold Lower Limbs in Horses
I have used the Theraplate  twice now and wasn't quite expecting results so soon.
My Welsh Section B pony suffers from the cold in the lower half of his legs (distal limb) due to an old injury and after using the Theraplate those symptoms have gone.
My other pony who is a Highland is sometimes foot sore and has trouble walking on stony ground. Since using the Theraplate he's much more steady and surefooted.
They are both no trouble standing on the Theraplate and normally fall asleep.  They don't seem to want to get off it at the end of the session.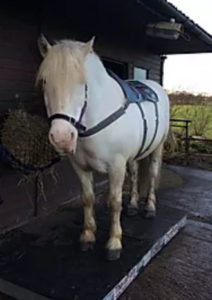 General Health and Wellbeing
Equine Health and Wellbeing
I treated my 2 horses to a theraplate session just because they are worth it!  
Quest the palomino horse is 26 years old and he walked straight on, I tied him up and stood back and laughed at the faces he pulled he enjoyed it that much!
Ziggy is a 6-year-old cob who loves a good MOT so I thought the theraplate would help him relax and loosen up, as he can be a bit tight and cold backed when under saddle.
Overall my 2 boys loved it and look forward to using it again soon!

Asymmetry in Horse's Hindlegs
We first tried Theraplate last year when my 8yo mare, Blaze, had been playing up whilst competing in arena eventing. She'd had the physio and chiro out who had both said she was stronger on one hind leg than the other.
We tried the Theraplate as a friend of mine had one on trial and I wanted to give Blaze the best chance of improving her weaker leg.
She was a little unsure at first, but settled down and seemed to enjoy it in the end. She has since made a great improvement and is enjoying jumping again.
We had a big competition coming up and I wanted Blaze to feel as well as possible, so I took her to our local horse spa, who have a Theraplate installed. She really enjoyed it this time and almost fell asleep! She jumped beautifully at the event!
I would definitely recommend Theraplate to anybody and everybody with horses, no matter what they do with them. I think it's an excellent tool to use for healing or even just as a treat. Thank you so much Theraplate!

Large Abscess on Horse's Neck
The horse in the images to the right developed a large lump on its neck. The lump was so large that it stopped the horse from moving its neck properly. 
The horse was treated with the Theraplate and what occurred was pretty amazing. The lump changed shape during the first treatment and started to weep towards the end. We discussed with the owner to call the vet and arrange a time the following day for a second treatment, when the vet was present. 
During the second treatment the lump became more pronounced, so the vet scanned it and discovered an abscess which he thought had 5 capsules inside. He went on to burst the abscess and drained the infected fluid. 
The horse was able to graze normally the following day, which it hadn't been able to do for some time. The vets treated the horse with antibiotics and flushed the abscess site. Then further Theraplate sessions were used to draw the rest of the fluid out.
The healing process happened very quickly and the horse was back in work within a few weeks. A very positive outcome all round.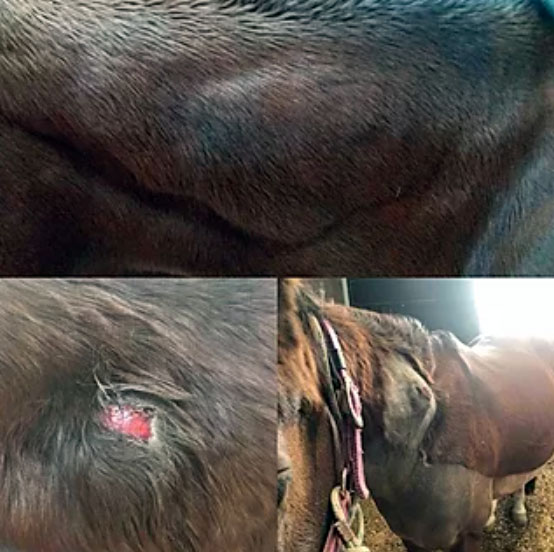 Bone Chips in the Fetlocks
We had a 2️ year old filly that had multiple bone fragments in 3️ of her fetlocks. 
It was looking like surgery would be needed for sure, but instead we tried using the TheraPlate first. We used the Theraplate as directed, 2️ times a day for 6 months, after which we took her in for another evaluation at OSU Vet school. The results speak for themselves.  
She now has no bone fragments in her fetlocks and therefore surgery will not be required. I am a true believer in TheraPlate Revolution!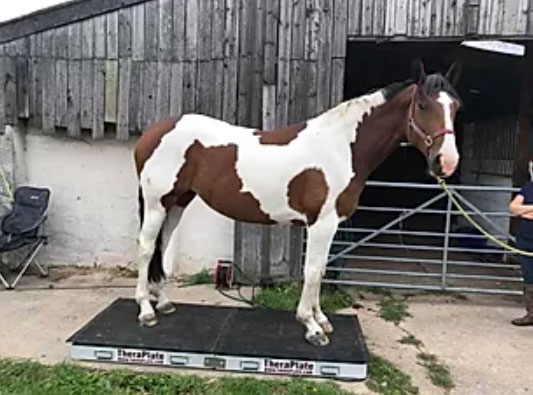 Brain Injury
I suffered with a head injury a few years ago and was left with several conditions, associated with my brain, many of which are too complicated to even remember the names of.​
The main thing that I suffer with as a result of the injury is seizures. When I suffer with a seizure the recovery period, where I can get back to going out and about, is usually around a week or two, sometimes three if it is bad, which affects my day to day life and work hugely.
I get, what I can only describe as, brain fog following a seizure which affects my speech and makes me stutter. Following a recent seizure I started using a TheraPlate to try to help my recovery and within 10-15 minutes of being on the plate on the first treatment it felt like the fog had started to lift. I didn't expect that this would happen and certainly not this quickly.​
I continued to use the plate 3 times a day for 10-15 minutes and found that it dramatically shortened my recovery period post seizure, and not by hours, but by days. This means so much to me as it allows me to get back to normal life and back to work much quicker.
I wasn't sure if this first time was a fluke. Unfortunately I did suffer two more seizures which I also used the TheraPlate to aid my recovery and it worked again. It shortened the recovery period again, by days, and allowed me to get back to work. This takes a huge weight off my mind too, that if I do have another seizure I will be able to recover quickly and get back to normal now, rather than it taking weeks.
On top of the help with recovery from seizures, I have found that the TheraPlate has helped with old Judo injuries too. I suffer with pain in my muscles of my back and shoulders, which I found loosened off considerably and therefore reduced the pain after TheraPlate treatments. I would describe the feeling after a treatment to be similar to after a massage, with the muscles feeling loosened and relaxed.
As a result of helping with these injuries, the plate has in turn helped with my sleep. I have had chronic insomnia for the last 10 years, even before the brain injury, but the plate has allowed me to get more sleep, from helping with the back and shoulder injuries too.
I don't know lots of other people that have had brain injuries that could try the plate too, but it has certainly helped me and would recommend that people give it a go, definitely.
Hoof Growth
In summer 2018, my horse pulled a shoe whilst in the horse box travelling to a show and pulled some of her foot off with it. This resulted in her having to spent most of the summer out of work. 
She had trouble holding shoes and became very foot sore, most days she could just about manage a walk and trot in the arena. The before photo is after her second farrier visit, where she was barefoot and did not have enough hoof to nail the shoes to.  
In the meantime, alongside specialist farriery and supportive hoof supplements, we started putting her on the TheraPlate each day to accelerate the hoof growth and the results speak for themselves and she's now back in full work.
The difference is astounding and she no longer has trouble holding shoes and is no longer foot sore at all! She is back jumping consistent clears affiliated British Showjumping and her hooves have never looked better. We continue to have regular Theraplate sessions for maintenance.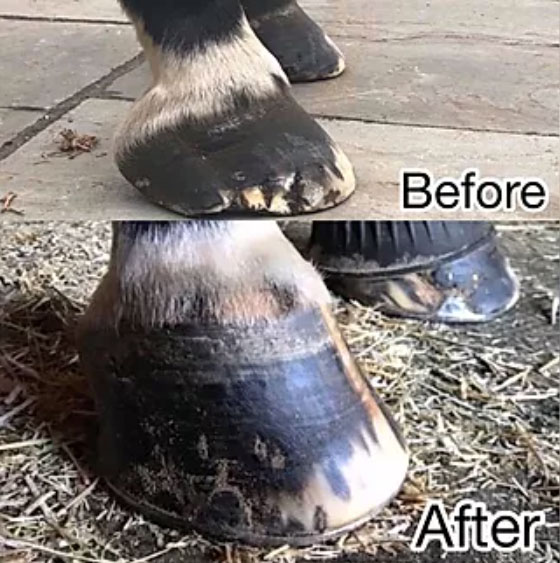 Canine Testimonial 1
I'd like to thank Theraplate Cheshire for Elvis's Theraplate treatments. He has a condition in his hind legs that makes them very weak. He has had 2 treatments so far and he absolutely loves the Theraplate!
Can't recommend the Theraplate enough and the prompt service that Sophie came out to us.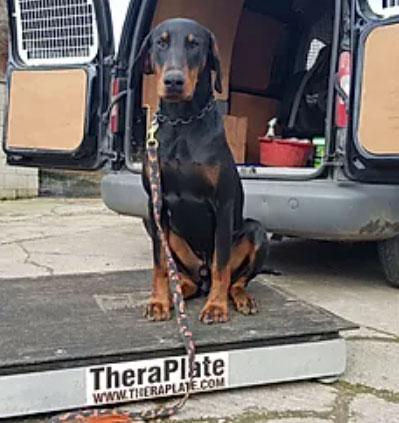 Canine Testimonial 2
Here is my collie dog, Mollie. A couple of months ago she sustained an injury from playing with her friend, typical collie doesn't know when to stop! The morning after playing with her friend, she couldn't walk on her right hind leg.
The vet said rest for 2 weeks, which wouldn't be easy, you try telling that to a collie dog pup! Anyway, I took their advice and kept her rested, but straight away put her on the Theraplate before and after work (we have one at my work) and I couldn't believe it within three days she was walking on it just like normal!
I kept her rested and carried on with the Theraplate twice a day for another week and we've never looked back since.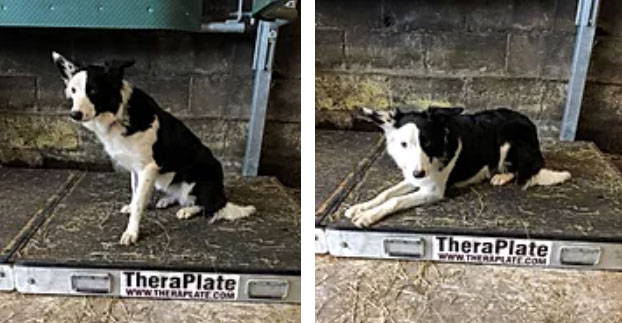 Canine Testimonial 3
Just thought I'd share this about my dog, Paddy and the wonder that is the Theraplate!
On Thursday night after a run in with a bench, my 14 year old dog lost the use of all 4️ of his legs. The vet suspected severe brain injury and wanted to put him down as they didn't think he would recover. 
The following morning he had started to try and stand with help, and the day after he was walking but very wobbly and falling over often. I then put him on my Theraplate on the small animal spinal setting and 1️ hour later he's back to jumping in and out of the pickup and climbing on the seats!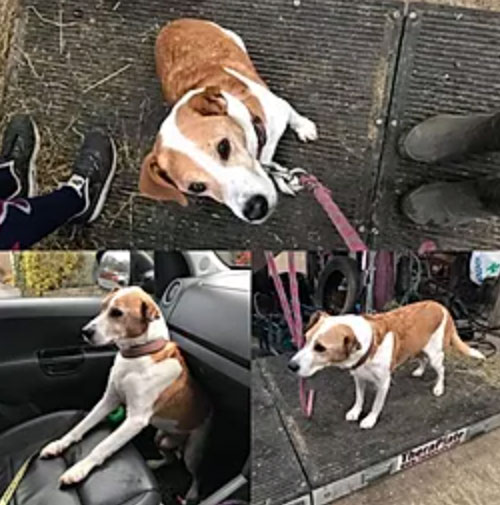 Canine Testimonial 4
Ash, the springer spaniel, has been greatly improved from having the Theraplate treatment, he enjoys it and falls asleep. He is able to get up and down more freely and doing great for his age at the tender age of 13yrs old.