It's mid-September and the rain has just stopped. It was the morning of the 220v by TheraPlate launch photoshoot and we're so excited to share with you what we've been working on over the last few months!
2020 has been a difficult year for so many and it has changed the world forever. Never before have we seen such turmoil and disruption on a global scale. The pandemic has brought with it a shift that will mean things will never be the same again.
But we can't let that stop us!
We had a packed year planned out with lots of trade stands at big horse shows around the world, but that wasn't to be. So, sat at home and stuck in the office lead us to develop something else.
We recognised a gap in the equestrian market for a clothing range that united an urban feel with horses. Two things which don't always meet, but work so well together. Our new and innovative, tech friendly designs will refresh and update equestrian fashion as we know it.
We wanted to capture the crazy events of 2020 in the designs, which lead us to the very talented young artist, Charsley Art, who has drawn the designs for us. This, coupled with the horse head QR code on the backs of the clothing, makes them something that the equestrian industry has not seen before. The QR code takes you straight Instagram so you can share all your fabulous photos of you wearing the items while you're out and about.
Designed to be comfortable whether you're at the yard or chilling at home, we wanted to create something to wear wherever you are. Our models at the shoot, Jade Affleck and Jevan Williams showed the clothing off to it's best and we had a fantastic photoshoot with them, with so many more ideas to come.
But they weren't the only stars of the shoot. We had the wonderful Hugo, who is a stunning bay warmblood. Hugo was such a good boy and didn't mind the smoke machine or the lights in the shoot. I think you'll agree with us that he's a handsome boy here with Jade.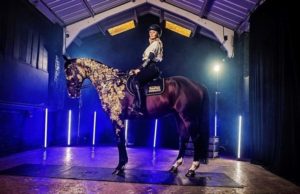 We weren't short of canine company either. We had two gorgeous Cane Corsos, Fonzi and Haus join us too. They added a dramatic element to the shoot which we think looks awesome on the photos!
And we can't forget, faithful TheraPlate HQ office dog Chalky! He ran in and gate crashed the shoot to become a star of the show.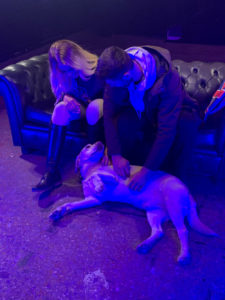 The full range will be launching at the beginning of November so make sure you sign up here and follow us on social media for all the latest previews and exclusive early access!