So, I bet you're wondering what happened to Dominic after the last article?
Let's recap a little…
Following a nasty injury, Dominic was out of racing while he recovered, uncertain if he should return at all. Meanwhile, his father collapsed in a supermarket and never regained consciousness which left Dominic even more uncertain of the future. Jockey turned public speaker, Dominic's father wanted him to return to racing, but after the accident and injury Dominic was left weighing up his options.
And that's where we pick the story up.
We did tell you that this would be about the story of TheraPlate Ltd, however, and Dominic is only half of the gutsy duo who started the company, so where does Francesca come in?
Dominic and Francesca met just 6 weeks before his father passed away. Francesca echoed Dominic's father in encouraging him to return to racing, and after the shock of the few months previous, Dominic thought he might as well give it another go.
His first race back was a winning one, at the Ayr Gold Cup meeting and shortly after that also won his second race at The Racing Post Trophy meeting. So, needless to say that Dominic was on form and flying high on his return. Not only that, but that year he was the leading claiming rider on the turf too.
On top of his game, Dominic and Francesca saw an opportunity. With their philosophy of 'always give something a shot, that way you have no regrets', they moved to America in March 2013. They both wanted to travel and experience living in another country, and the races and prize money were much greater in the US.
It certainly was not smooth sailing though, and after a string of moves around America, trying to get settled, the money they had put aside to start again had run out. At this point Francesca and Dominic were mainly living in their car and using money he attained from riding horses in the morning for the odd motel stay.
They knew they couldn't carry on like this, and then Francesca found out she was pregnant with their daughter Pip. Francesca ended up having her in hospital in New York, but there were complications. Following the birth, Dominic was sent home with baby Pip on his own and informed by the doctors that there was a high chance of Francesca not making it.
After 3 weeks of hospital visits to the ICU, Francesca was allowed home and Dominic had found some work in Kentucky. The now, family of three moved there to settle down and lay some roots, but little did they know at this point, the hardship was not over.
Francesca, on her discharge from hospital started an online bespoke service, where she would draw portraits and also "bling" peoples tack by hand, which became quite successful, to the point it actually became a now widely used range of tack.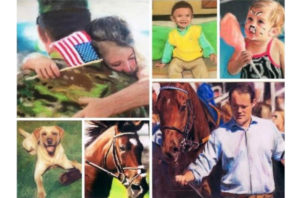 While they were in Kentucky, Francesca also attended a horse show where there was a TheraPlate trade stand. Lisa Spellman, an independent agent for TheraPlate Revolution was there and the product first caught Francesca's eye. The two of them got chatting and Lisa told Francesca about her friend who was completely bed ridden with arthritis. After a rehab programme which included using the TheraPlate, her friend was actually able to get back in the saddle and start riding again.
Francesca knew that this was a game changing piece of equipment and couldn't wait to tell Dominic all about it when she got home. Dominic had seen them on the racing yards all over America, but didn't know much about them. He knew how popular they were with the trainers, and knew there was nothing like it on yards in the UK.
Time went on and the family of three became four with their Labrador Chalky joining them. At this point, it seems to be going along the lines of 'and then they lived happily ever after…' but that wasn't to be, not yet anyway!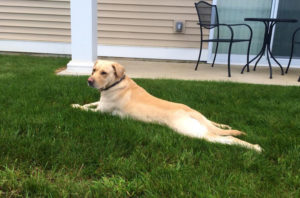 Next time…
A tragic event sees the family uproot and move continent, with some huge decisions to make. Tough times lay ahead of them, it's not going to be easy, that's for sure.