If you have ever met Dominic & Francesca Fox, Founders of TheraPlate Ltd, you will know how passionate they are about the TheraPlate, their business and equestrian sport. Both with equestrian backgrounds, the husband and wife team have fought their way from nothing to where they are today. It's this journey that has developed their grit, determination and resilience to a whole new level, and we want to share their journey with you.
To really set the scene, let us take you back and start with a bit of history on Dominic, his family and their racing backgrounds.
A keen showjumper and horse woman, Dominic's mother and her family all loved racing, which lead to owning a few racehorses and one day while watching a horse run at Windsor racecourse Dominic's mother and father met.
A fantastic jockey, Dominic's father enjoyed a long and prosperous career after coming over from Ireland to work as an apprentice for Seamus McGrath aged just 14. Throughout his career he rode 872 winners in total, including horses for the Queen and Sheik Mohammed to name a few.
So naturally, Dominic was brought up surrounded by the racing industry and followed in his father's footsteps, but no one said it would be easy! At just 16, Dominic starting riding out racehorses but was far too small to race. He was dubbed the 'Smallest Jockey in the World' by newspapers, standing at just 4ft tall and weighing in at a tiny 4st 4lbs.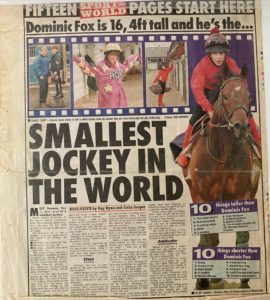 Unable to race until he had put more weight on, Dominic honed his skills riding horses out on the gallops at home. His first race wasn't until he was 21, but even then, he still only weighed 5st 2lbs. This meant that the horse had to wear two lead cloths and Dominic had to wear an 8lb lead jacket under his silks, which not only was incredibly dangerous and hard to ride in, was also against racing rules. But nevertheless, this didn't deter Dominic from his dreams of winning races.
At 23, Dominic was named Racing Schools Champion Apprentice and he enjoyed many successful years of racing, despite being plagued with injuries, as many jockeys are. It did seem that every time he got going and things started to look good, he would get injured again and over a 7-year period Dominic had broken just over 15 bones, each on separate occasions.
On returning from racing in India, Dominic suffered a serious accident which saw his career put on hold again, but this time it wasn't something as minor as breaking bones. He was double barrelled in the chest by a horse and was initially declared uninjured on his first trip to hospital. Later when Dominic returned home, he collapsed and was rushed back into hospital, being resuscitated twice on route. It was at this point they found that he was bleeding internally and had already lost over 3.5 litres of blood.
The road to recovery from such serious injury would see Dominic take an extended break from racing, despite his father always trying to encourage him to get back in the game. The next 3 years would be extremely difficult for Dominic and his family.
Dominic's father was someone who always pushed him to improve. An example of this that Dominic recalls is "I'd just had three winners in a day, I was still only a year in to race riding and feeling excited, so I called dad to tell him and his response was "yeah, I rode four in one day" and hung up the phone." He was hard on Dominic, but it instilled a 'never give up attitude' that meant he would never rest on his laurels, even to this day.
So, through the ups and downs of a jockey's lifestyle, of which there are many, Dominic sought support from his mother, who having been at his father's side throughout his riding career, knew all too well the strains, both mental and physical, the career had on someone.
Sadly, in 2010 Dominic's father collapsed very suddenly while out shopping, hitting his head as he did so. He was immediately rushed to hospital, where he would never regain consciousness. This had a huge impact on Dominic, but this was not the only strain in his life at that time. Dominic's mother was also undergoing treatment for a brain tumour, of which would need surgery to remove.
This left Dominic with a huge hole and in quite a lonely place, not only without a career, but also without a father and a very ill mother.
In the next article…
Find out how Dominic coped with the loss of his dad and where Francesca fits into all of this.
Does Dominic return to racing like his father wished?
Or will he take a completely different path?