Taking the plunge and purchasing a piece of therapy equipment for your practice can be daunting, but it doesn't have to be. Sometimes it makes perfect sense and at the end of the day if it helps to improve prospects for the animals and humans you treat, surely it is a win win all round.
To put your mind at rest, we'd like to share the story of Buxton Canine Hydrotherapy Centre in Derbyshire who purchased their TheraPlate earlier this year.
Let's hand over to Gemma Kolodziejczyk from Buxton K9 Hydrotherapy:
"So, I purchased my TheraPlate during the first lockdown due to a Great Dane named Dorothy who I'd be doing Hydrotherapy with for around 12 months for arthritis and yes, I'd seen improvement, but the she was also going up to a friend's farm who had a TheraPlate for her horses and she suggested to try Dorothy on this. After around 3 sessions on the TheraPlate Dorothy's range of movement improved massively."
Q: How have you found the TheraPlate has complimented your existing Hydrotherapy business?
I was given a challenge for a little 5 year old Frenchie called Tucker who had slipped a disc completely paralysing his hind legs. Five weeks after the accident we started him doing hydro and the TheraPlate twice a week. After his 13th session he had gained the strength to stand himself on his back right leg. So now we are working on keeping the right strong and building the left, but because of this improvement people are wanting me to use on their dogs too as speeds up recovery.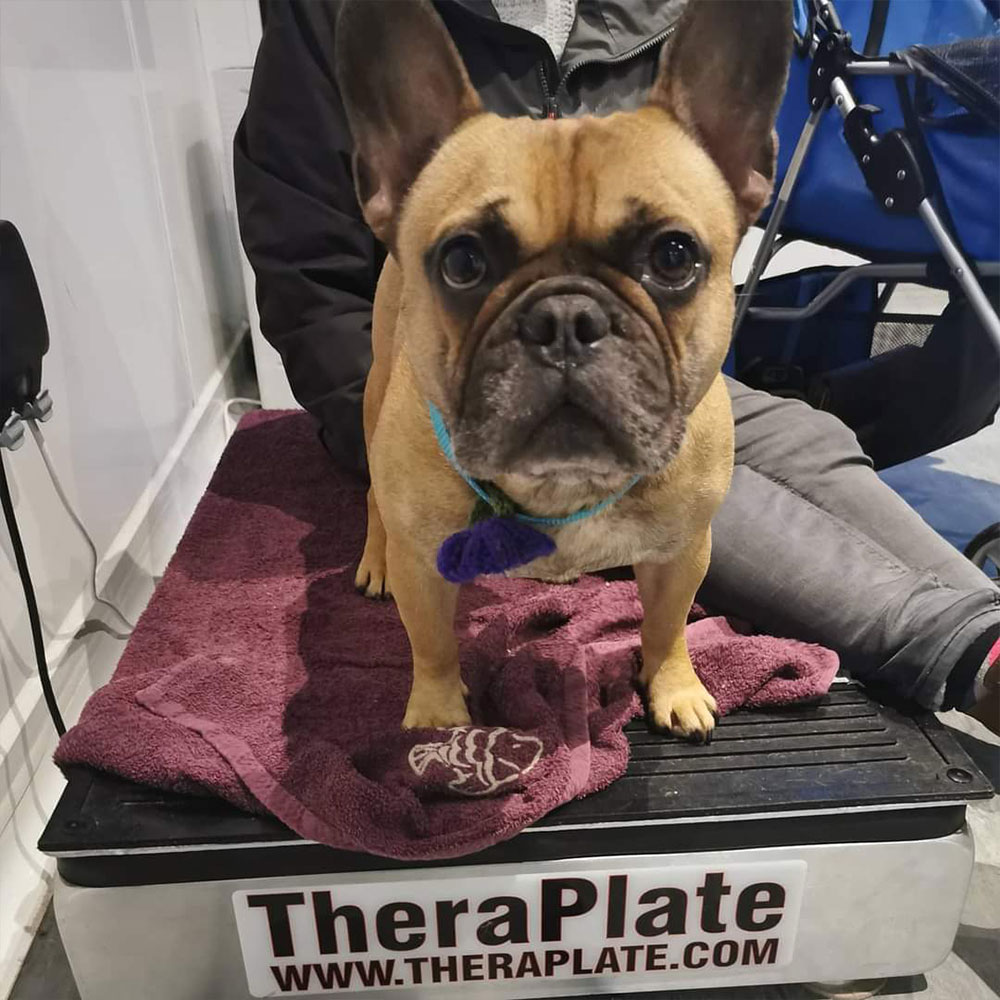 Q: How many of your customers use the TheraPlate alongside your existing treatments?
So, I have 6 of my clients that use the TheraPlate alongside their Hydrotherapy sessions for different reasons. I also have 1 that just uses the TheraPlate only.
Q: Do the dogs like the TheraPlate?
I can see that when the dogs come into the centre, they are more than happy to then go and lie on the TheraPlate. We have a border collie that when she visits the vets, she will take herself to the scales and lies down thinking it's the TheraPlate.
Q: What's your top tips to anyone thinking about becoming a TheraPlate specialist?
If I hadn't seen it for my own eyes, I wouldn't have believed it would provide the results it does, hence why I had no hesitation in purchasing one after the Great Dane had only been on 3 times and I saw more improvement than I had seen from just doing Hydrotherapy.
The results that Gemma has seen in the dogs she treats speak for themselves and we're so glad to hear that Dorothy and Tucker are both doing well. Gemma's story isn't an isolated case, and we hear of many other therapists who swear by the TheraPlate.
If you would like further information on the TheraPlate, what is does, how it can help or on becoming an IATS qualified TheraPlate Specialist then please do give us a call on 0800 955 2016 or email us on hello@theraplateltd.com.