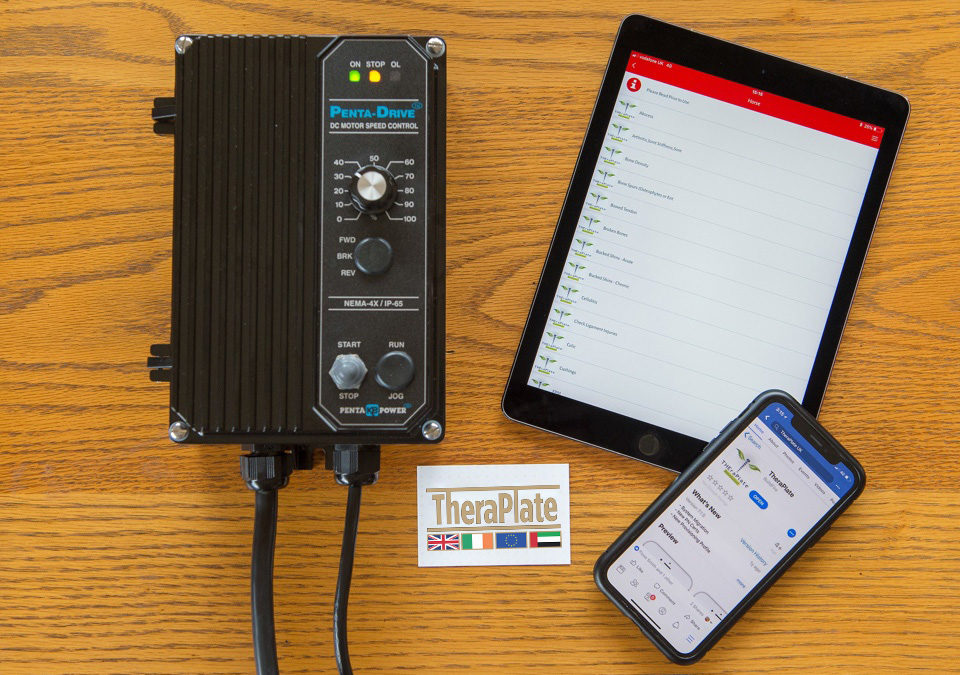 Recently on our social media we covered the myth that TheraPlates always break and the warranty is rubbish. This, of course, is not true! It is a rare occurrence for a TheraPlate to break, especially for a manufacturing fault, but that's what the warranty is there for.
Having said that, however, TheraPlates are not quite invincible. In this article we'll look at some of the common reasons a TheraPlate could break, how to avoid them and more about the TheraPlate warranty.
First of all, let's dive into some stats surrounding TheraPlate faults.
In the UK there are currently less than 10 machines that have issues, out of almost 7,000 in circulation. So, to view that as a percentage is a minuscule rate of 0.14% of machines in the UK that actually need to go back to the USA for repair.
What is and isn't covered
As we have mentioned before, all manufacturing faults are covered by the warranty, but there are parts on the TheraPlate that wear over time and do need repairing or replacing, which is natural wear and tear on the plate. Wear and tear is not covered by the warranty.
To ensure your TheraPlate stays covered by the warranty it requires general maintenance by the owner on a regular basis to keep it in good condition. Information and details on this can be found in your manual that comes with your TheraPlate when you purchase it.
There are common issues that we do see arise from time to time, but these can easily be avoided. So, to keep your TheraPlate in good condition try to avoid the following:
Improper set up of the TheraPlate – for example "here are the instructions, pfft instructions, I don't need those!" Make sure you read the instructions carefully to set up the TheraPlate correctly, and follow the guidance each time you use it. Don't cut those corners!
Cords not being looked after – the TheraPlate is an electrical device that can be used outside, but care does need to be taken with the cables to ensure it doesn't break. Store cables properly inside the unit, as subjecting them to liquid, crushing, or urine can result in damage which wouldn't be covered under the warranty.
Flooding and water damage – while the TheraPlate has been tested for outdoor use, it will become damaged if it is left in a 6" of water over night for instance. Please consider this when storing or setting up and using your TheraPlate.
Making modifications – another one we see is if people sink the TheraPlate into the ground without manufacture guidance this can cause damage which wouldn't be covered. If this is something you want to do, please seek guidance from us first.
Not maintaining the TheraPlate – if there are signs of wear and tear, make sure you take action to remedy them before it becomes a larger problem. You wouldn't continue to drive your car with the warning light on until it completely stops working and expect it to be covered under the warranty. Cable hatches and TheraPlate feet are common ones where we see wear and tear, so look after these wearable parts.
Other parts which are subject to wear and tear over time and should be maintained, repaired or replaced are:
Rubber Matting – although this is very hard wearing, over time it can need some attention.
Cable Hatches – these are fairly sturdy but over time can need replacing.
TheraPlate Feet – again, these are sturdy but after lots of use can need replacing.
Control boxes – these do have a 12-month guarantee so you are covered for the first year, but occasionally after this period parts may need repairing or replacing.
We do stock replacement parts for the TheraPlate in the UK, so do get in touch and we can arrange these with you.
Car Comparison
A great way to assess whether something is covered under the warranty is the car comparison.
You buy a car direct from an authorised dealer (TheraPlate Ltd) and it has a very generous 5-year warranty on the engine (the motors in the TheraPlate).
So, off you go, loving your new car (TheraPlate), driving it around town (treating horses) but the orange warning light comes on (maybe it starts sounding different to before or other signs of wear and tear start to show).
You know you should get it checked over to ensure it's maintained, but this time you continue to drive your car (use your TheraPlate) without checking with the dealer (TheraPlate Ltd) regarding the manufacture guidelines or seeking their advice to purchase replacement parts to maintain your car (TheraPlate).
It continues to drive for now, so you continue to use it to drive round even though you haven't checked the oil (TheraPlate feet), tyres (rubber matting) or the coolant (control box) for instance, because, well why bother it's under warranty, right?
Then the dreaded day comes… Fantastic, my car (TheraPlate) has now stopped working completely!
You contact the authorised dealer you bought the car from (TheraPlate Ltd) and check it's still within warranty? "It is" great news!
The Repair
We (the dealer) take some details from you, go through some troubleshooting options to see if we can help over the phone, but if these things don't work, we arrange pick up of your broken TheraPlate and will look to offer you a loaner unit (courtesy car) free of charge.
We send your broken TheraPlate unit (Car) back to the manufacturer for repair in the USA. We do not issue or authorise repairs here in the UK, so it must go back to the US.
When it arrives back in the US with the manufacturer (TheraPlate US) they will look at your unit (car) to determine if the fault that has caused your unit to fail is either a manufacture default (covered under warranty) or whether it is due to another reason, perhaps improper set up or use.
Issues are usually simple to fix and if it is covered under the warranty, it will be repaired and returned for free.
If the issue is not covered under the warranty and can be fixed, TheraPlate will discuss costs for repairs with you before carrying out the work. With your consent you will be charged for the work as set out in our T&Cs and paperwork you filled out prior to us picking your unit up.
Accidents do happen, but it's really important to look after and maintain the TheraPlate unit throughout its lifetime, just like you would anything else mechanical, just like you would with your car. Details of how to maintain the TheraPlate and keep it in good condition are all set out in the manual, which is provided to you when you purchase the TheraPlate direct from us.
The Warranty Details
The warranty period varies depending on the part of the TheraPlate, so we have broken it down for you. The warranty periods are:
Control Box – covered for 12 months
Internal parts including motors – covered for 5 years
TheraPlate frame – covered for the lifetime of the plate
Our warranties are non-transferable, which is why we don't recommend buying a second hand unit. Let's face it, if you bought a TV from someone on Facebook and it didn't work, you wouldn't go back to Samsung and expect it to be covered under warranty!
The warranty can become void if care has not been taken to maintain and look after it. If the TheraPlate is left in manure or urine this can affect the frame or the internal workings, so please keep your TheraPlate clean.
The warranty is also void if the manufacturer's seal is broken and the TheraPlate has been tampered with internally. If something is not right with the internal workings of the plate, please get in touch with us first before attempting repairs yourself or with a third party.
TheraPlates are an investment, they are not cheap therapy equipment. So, when you spend your hard-earned money on a piece of vital equipment for your business, it's always wise to make sure you are covered, just in case something does go wrong. The last thing you'll want, when you have a business to run, is to find out your local electrician can't fix a TheraPlate issue, as it's is not as simple as a tv or a lamp.
Our first hand customer service team are there to support you when you're in a tight situation. We not only supply you with a fast turnaround on a TheraPlate warranty loaner unit, but we handle everything from start to finish, so you don't have to worry about flying to America to pick it up.
We do stock replacement parts which are subject to wear and tear that you may need to keep your TheraPlate in top condition. So, if something is becoming worn and needs replacing, simply get in touch and we can arrange purchase of replacement parts with you.
For more information on our warranty, please get in touch, we'll be happy to answer any questions or head to our warranty information page.