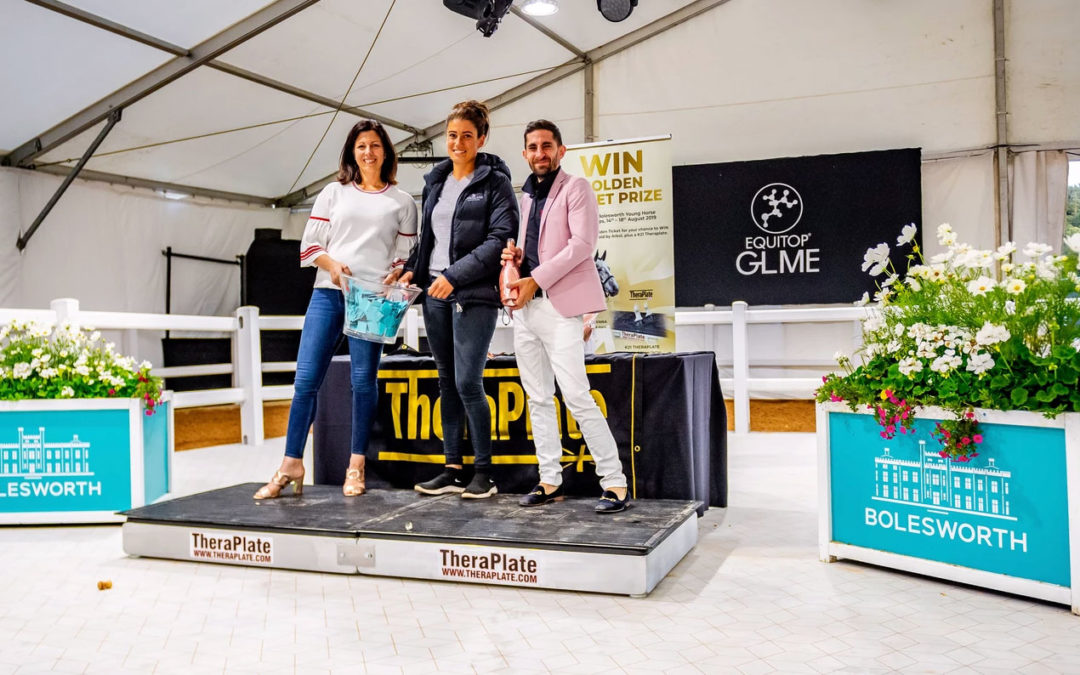 Bolesworth Havana is Home!
The Equitop Bolesworth Young Horse Championship served as a celebration of the very best of British breeding and top equestrian sport.
The inaugural show hosted in the stunning grounds of Bolesworth Castle combined a young horse championship with WBFSH qualifiers for the finals at Lanaken, an AES Elite Foal Auction plus the opportunity to win a prize of a lifetime with every golden ticket. The very special prize of a stunning 3 year old mare Bolesworth Havana, by Arkol , alongside a K21 TheraPlate and a Voltaire Design bridle was announced live on Saturday 17th August to the delight of the winners Simon Shaw and Nadia Affi.
The second prize of a pallet of Equerry Horse Feeds was won by Hollie Pearce while Emma Grant won £250 worth of product and merchandise from Equitop, as well as a Voltaire Design bridle.
Winner of the Golden Ticket Prize, Nadia Affi said: "It still hasn't sunk in yet, I never win anything! The prizes on offer were just incredible, we still can't quite believe it, what a way to celebrate the first Equitop Bolesworth Young Horse Show. Havana has settled in so well at home, she's proving very popular on the yard, we are excited to see what the future holds for this lovely young horse. We're also looking forward to taking delivery of our new TheraPlate. We have heard lots of positive feedback about the TheraPlate, it will be a great asset on the yard for all the horses".
Following a thorough home check and approval by the Bolesworth Team, Bolesworth Havana arrived at her new home in Cheshire. Nina Barbour, Managing Director of Bolesworth Equestrian said: "We are delighted that the Golden Ticket Prize was so well received. Bolesworth Havana is a very special horse to all of us at Bolesworth, she is very well bred and shows a lot of potential for the future, we are looking forward to following Nadia and Bolesworth Havana's career with interest. The Equitop Bolesworth Young Horse Championship highlights the quality of competitive young horses in the UK, what better way to celebrate this with such a special prize".
In addition, for every Golden Ticket sold a percentage has been donated to the Tim Stockdale Foundation. The charity, which was founded by Tim's family following his death, aims to continue the legacy of the showjumper's life. The Foundation focuses on increasing greater participation in sports, such as equestrianism, golf and cricket, with a strong emphasis on unearthing young talent.